As well our quartet of special single cask bottlings being released this month to celebrate festival season, we're delighted to offer members a stunning selection of small-batch releases, lovingly created and curated by The Scotch Malt Whisky Society's Spirits Team.
A single cask is a wonderful, beautiful and treasured thing – something we can all agree on at The Scotch Malt Whisky Society. But sometimes we want to spread the love a little further than the 250 bottles or so that you can offer from a single hogshead. And that's one of the reasons why for this festival season, the Society is delighted to offer up an amazing range of six small-batch single malts – as well as a one-off custom distilled small-batch single grain.
The number of bottles available for each of these releases varies from just over 1,000 to more than 2,000, and each one was created by the Spirits Team working with between five and 10 different casks.
"We have a great collection for festival season this year, a mixture of outstanding single cask bottlings complemented by these seven small-batch products," says SMWS Head of Whisky Creation, Euan Campbell. "Working with between five and 10 different casks in each case gave us the chance to experiment with different flavours. It also allows us to share these whiskies on a more global scale – after all, festivals are all about bringing people together and we want to be able to do that in slightly larger volumes this year.
"They are also all bottled at cask strength, and each one has its own 'cask bill' recipe – a different selection of casks that we've worked to put together to create something interesting and special."
The small-batch series offers a wide range of flavour profiles depending on where your tastes lie, from the Peated bottlings you might expect from Islay distilleries 3 with The Finesse of a Fragrant Furnace and 53 with Honeysuckle Petrichor, to a Lightly Peated distillery 93 bottling from Campbeltown with Lock, Stock and Two Smoking Funnels.
Sherried fans can indulge in Massive Oak Extraction from distillery 24 and Bake-Off from distillery 68, while even at 15-years-old the small-batch Viscous Velvet from distillery 64 is firmly in the Old & Dignified flavour profile category.
"There's a huge variety in flavours across the range, and although we don't normally focus on region, this is the one time of year that we hone in on that," says Euan. "Our Peated offerings range from something lighter and more floral through to a briny medicinal style. But there's a focus on sherry cask maturation as well, which is probably not a surprise because we love our sherry casks.
"My personal favourite is the release from distillery 64, Viscous Velvet. The fact that at 15-years- old the Tasting Panel assigned it to our Old & Dignified flavour profile category is testament to the quality of the casks that it's matured in. There's a mixture of bourbon hogsheads, American oak Pedro Ximénez and Spanish oak oloroso in there. It has so much butterscotch, whipped cream, vanilla, all these notes, it's just really decadent."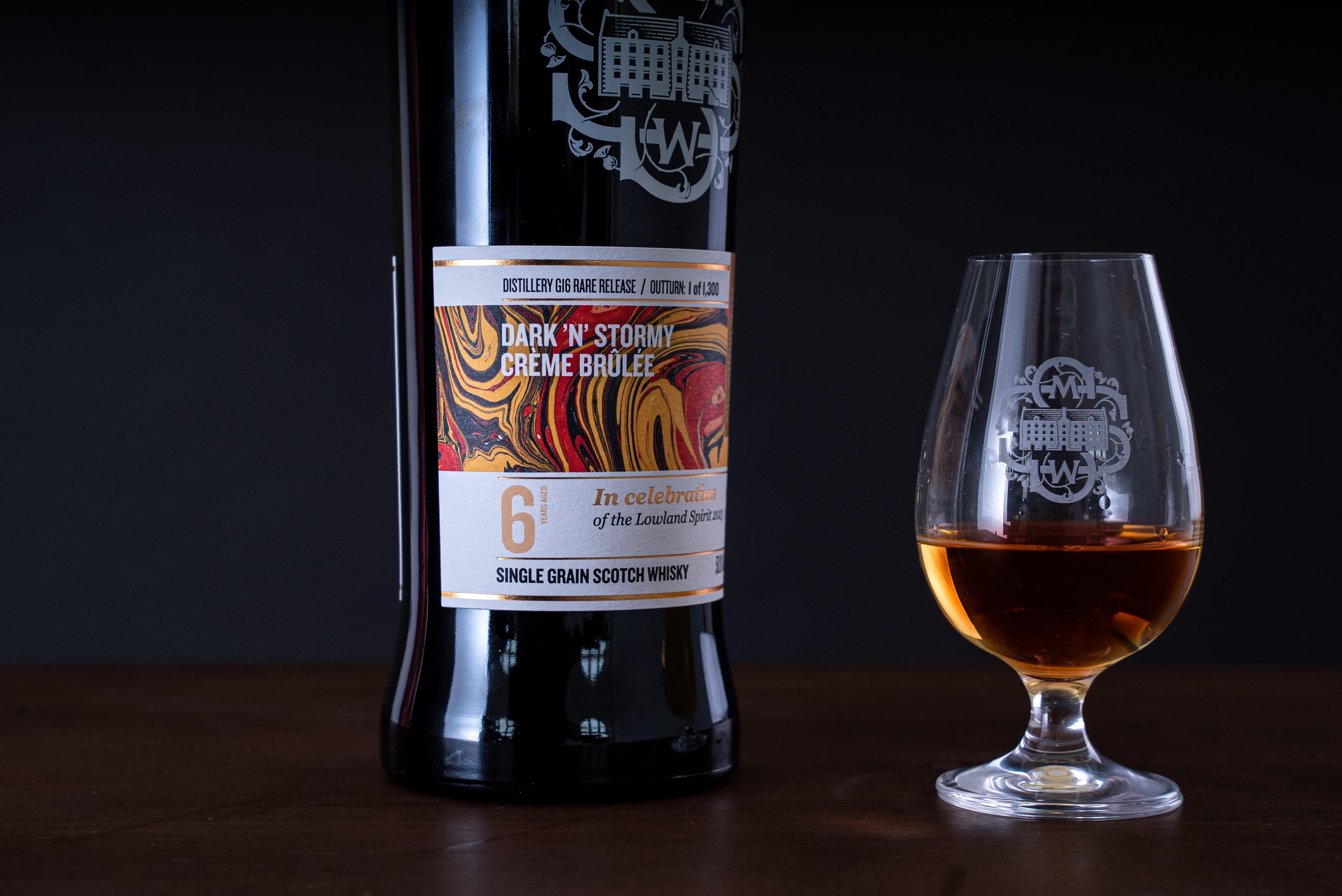 The outlier amongst the single malts is the small-batch single grain, Dark 'n' Stormy Crème Brûlée, from distillery G16.
"G16 Dark 'n' Stormy Crème Brûlée has an interesting back story, with a new distillery code because it will be the 16th grain whisky that we've bottled at the Society," says Euan. "It's the result of a custom distillation that we carried out in when we did a special project to distil our own bourbon-style mash bill at distillery 156 back in April 2016.
"We took a bit of trans-Atlantic inspiration for this one, using some different grains and creating a mashbill of 58 per cent corn, 21 per cent malted barley and 21 per cent unmalted rye. It was distilled in a pot still, which is unusual for a grain whisky, and then matured in heavily charred 24-month air seasoned new oak barrels from Kelvin Cooperage in the US, with toasted heads added to the casks to create even more flavour. We bottled this at 6-years old and at 50% abv, as a nod to the "bottled in bond" strength you find in the US. It's certainly one of a kind, a custom distillation never to be repeated, and utterly delicious."
Whatever catches your eye, Euan encourages you to let the whisky transport you, wherever it is you end up popping the cork on it.
"For me that great thing about festival season is bringing people together through whisky, which is what the Society tries to do all year around," he says. "I have loads of great memories of trips to the festival on Islay, meeting so many great people from all over the world. But if you're not able to make it there, we're looking to bring a little bit of the festival spirit to you with these releases. It's all about the camaraderie, getting together, sitting back and sharing a glass with the people who mean a lot to you. What more could you want?"
Explore our festival season small-batch bottlings and our May Flavour Hunters Festival here